Take a tour
Take a tour and get an overview of MAAS, including new features from the latest release.
Automate your infrastructure setup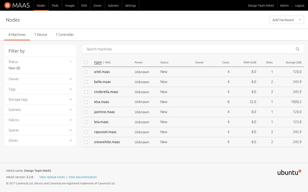 Unattended node discovery and listing
PXE boot your servers and containers and they will be automatically discovered and enlisted in MAAS.
IPMI enabled nodes work seamlessly with MAAS.
Effortless network discovery
MAAS will automatically discover your network infrastructure's:
Attached switch fabrics
Accessible VLANs
Subnets
Simple device discovery
MAAS can discover new devices and network interfaces:
Passively
On-demand
Periodically
Manage your servers without leaving your seat
Use the Web UI or the command line (CLI) to remotely manage your nodes or use the API to automate management.
Operate your machines remotely
Manage individual or groups of servers.
Power on/off
Commission
Deploy
Assign an owner
Mark a node fixed or broken
Enter rescue mode
Test your hardware
Assign to physical zones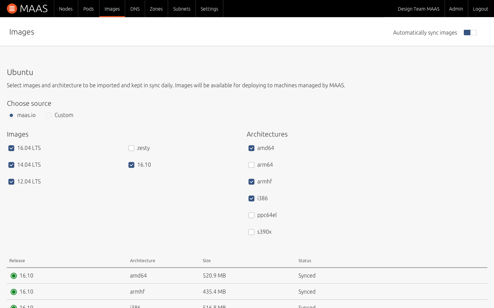 Provision with any OS image
Select the OS you require in your data centre *
Import, update or sync the images or connect to an onsite mirror to work offline.
* Images other than Ubuntu and CentOS require an Ubuntu Advantage licence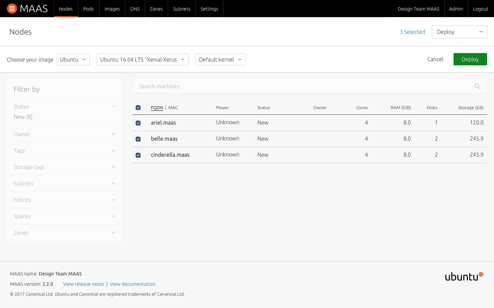 Deploy with the press of a button
Select the machine
Choose the OS and architecture
Press 'deploy'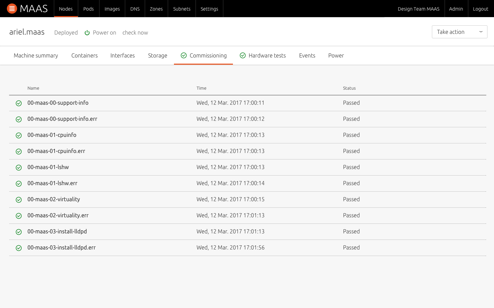 Keep an eye on your hardware
Keep track of your machines by:
Inspecting the hardware information that MAAS gathers during commissioning
Review a complete list of events for each machine
Run the hardware test that ship with MAAS or import your custom tests
Want to understand the core concepts and get a high-level overview of MAAS and its architecture?
Configure your servers with a few clicks
Easily manage your network interfaces
Set up your Ethernet interfaces easily and get your nodes ready to work as soon as they're deployed. MAAS supports:
IP address assignment
Bonding
VLAN configuration
Virtual bridges
Static routes and more…
Configure any storage layout no matter how complex
Set up your storage, from simple partitioning to complex storage layouts including:
Manage your network with MAAS
IPAM (IP address management) for operational efficiency
With MAAS managing DHCP, you can easily:
Define IP address ranges
Create persistent leases
Boot your machines from the network
Receive DHCP requests relayed from remote networks
With full DNS management you can:
Create multiple DNS domains
Add multiple records per domain
Select the domain for machines and devices
Assign additional names to IP addresses and more…