Install MAAS
Follow the instructions below to download, configure and install MAAS.
Talk to our experts
We make MAAS amazing, and we help people run critical infrastructure at scale with it. Contact us for more information or to discuss your specific needs.
You need one small server for MAAS and at least one server which can be managed with a BMC. It is recommended to have the MAAS server provide DHCP and DNS on a network the managed machines are connected to.
Create your admin credentials by typing.
Login to the MAAS UI at http://<your.maas.ip>:5240/MAAS/
Complete the first user configuration journey
Follow the instructions on screen to complete the first installation of MAAS. We recommended using the default values unless your installation has different requirements.
By the end of the journey you should have the following configured;
Region name
Ubuntu archive, Ubuntu extra architectures
Ubuntu images
SSH keys (for currently logged in user)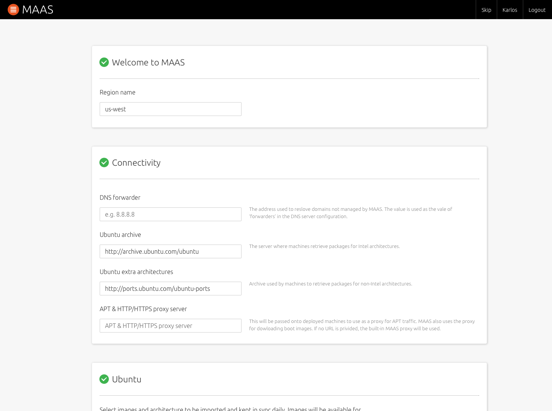 Enlist and commission servers
Now MAAS is ready to enlist and commission machines.
Set all the servers to PXE boot
Boot each machine once. You should see these machines appear in MAAS
If your machines do not have a IPMI based BMC, proceed to edit them and enter their BMC details
Select all the machines and "Commission" them using the "Take action" button
When machines have a "Ready" status you can start deploying