Metal as a Service
Say hello to your physical cloud
Complete automation of your physical servers for amazing data centre operational efficiency. On premises, open source and supported.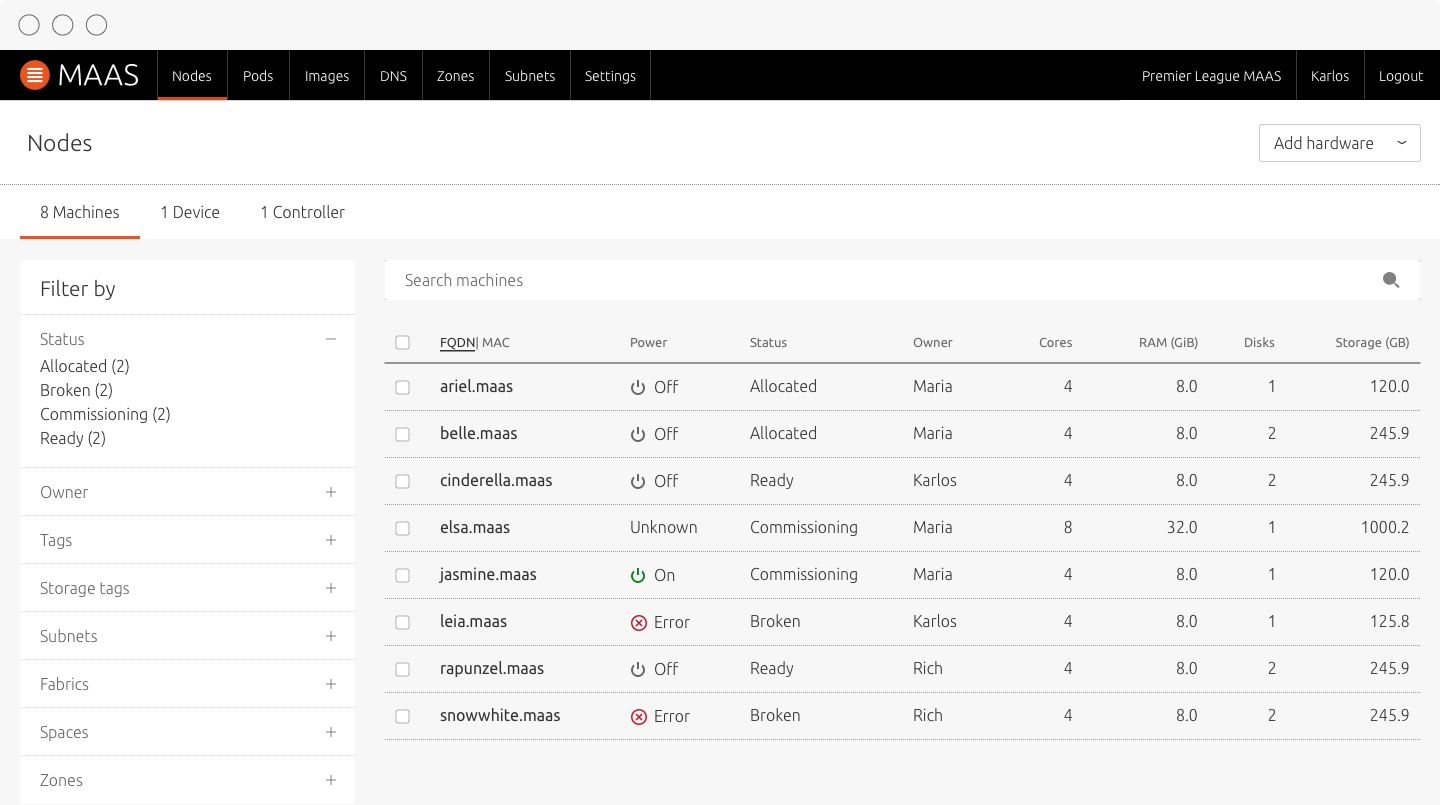 Key features
Automatic discovery and registration of every device on the network.
BMC (IPMI, AMT and more) and PXE (IPv4 and IPv6) automation.
Zero-touch deployment of Ubuntu, CentOS, Windows, RHEL and SUSE.
Deploy linux distros in less than 5 minutes.
Configure the machine's network interfaces with bridges, VLANs, bonds and more.
Create advanced filesystem layouts with RAID, bcache, LVM and more.
Full chassis convergence, including Cisco UCS, HP Moonshot, Intel RSD and more.
Dynamic hardware resource management with Intel RSD.
Observes and catalogs every IP address on the network (IPAM).
Built-in highly available DHCP (active-passive) and DNS (active-active).

DevOps integration
Integration with devops automation tools like conjure-up, Juju, Chef, Puppet, SALT, Ansible and more.
Monitors and tracks critical services to ensure proper opperations.
The smartest way to manage
bare metal
MAAS delivers the fastest OS installation times in the industry thanks to its optimised image-based installer. Setup the RAID and Network configuration you want through the MAAS web UI or CLI, then press a button and come back in minutes to a fully-deployed OS.
MAAS is designed for devops at scale, in places where bare metal is the best way to run your app. Big data, private cloud, PAAS and HPC all thrive on MAAS.
Works on all your hardware
Works on all certified servers from any major vendor
Discovers servers in racks, chassis and data centre networks
Supports major system BMCs and chassis controllers
Pricing
MAAS is supported by Canonical under the Ubuntu Advantage service program. Ubuntu Advantage MAAS includes tools that enable deployment of a wider range of operating systems, SLAs on support and high availability reference architectures.
Standard
$5
/ per server per month
Ubuntu, CentOS, Windows, RHEL and SUSE
10x5 support on weekdays (US and Europe only)
Advanced
$10
/ per server per month
Ubuntu, CentOS, Windows, RHEL and SUSE
24x7 support